Love Nutella? Here's how to enjoy a guilt-free and actually nutritious version of it!
Sometimes we just need that moment of self rewarding utter pleasure only sweets can give, but how could this become a superfood and healthy snack with no guilt pangs? Surely this daunting task is impossible?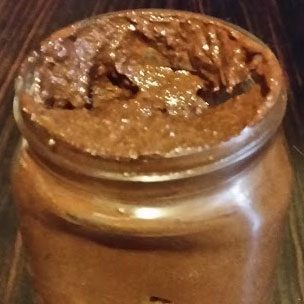 Not at all! DIY at the rescue, here is how I got a wonderful homemade chocolate spread that would satisfy my pangs while being chock-full of the nutrient advantages of sunflower seeds, honey, chocolate and carob, with a hint of coconut oil, all in one go. Of course it still has calories, let's remember that. But at least it's good calories, I keep telling myself.
Read on, this recipe takes less than 10 minutes to prepare, and you'll have a jar that lasts up to a week or more of good stuff…
I went on a chase for a good recipes, and found this at Momables that I further adapted to my super health-conscious habits.
Ingredients
Note: all the ingredients are organic.
1 cup raw sunflower seeds – I did not toast them
1-2 teaspoons vanilla. I had the (natural) powder form, and I guess fresh vanilla from a pod is even better.
¼ cup unsweetened cacoa powder (I guess you could also use a rich black chocolate bar but beware of the sugar content)
¼ cup unsweetened carob powder
1 heaping teaspoon [glossary_exclude]honey[/glossary_exclude]
a pinch of salt
2-3 spoonfuls coconut oil
¼ cup milk, dairy or nondairy (any kind will do, you could use homemade almond milk too)
How to: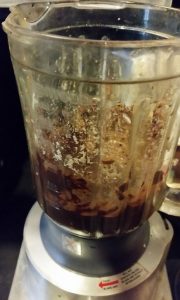 In the bowl of a food mixer or coffee grinder, process sunflower seeds until powdered and starting to become sticky.
Add in the remaining ingredients and blend until smooth and creamy. Do not add all the milk in one go, use it to get the desired creaminess. If you eat it straight from the fridge the cold coconut oil makes it more thick and stiff, just add a bit more milk to still enjoy the creamy texture.
Store in a glass jar in the fridge.
That's all, really!
My comments:
Sunflower seeds are packed with benefits, as you can read here at Dr. Axe, but knowing that heat is not good for the seeds I avoided the recommended toasting. To tell the truth: the resulting spread was so good I felt no loss in using the raw seeds. Besides, it's even faster and easier that way.
I did not use any kind of syrup, substituting it with raw honey.
I added the carob: it's good for you and it's also slightly sweetening, further reducing the need for any sugar.
This spread is really great, and eaten on whole bread with a bit of butter is just so tasty and rewarding, while knowing that you are really packing nutrients there.
I make my own wholesome bread with freshly home-milled flour, seeds and flakes, further compounding good nutrition, but of course a good organic whole bread will also do.