No more water plastic bottles!
Listen to "No more plastic water bottles!" on Spreaker.
Summer time is here and that for me this means an increase in the water that I drink.
I want to have water with me at all times when I'm out so I need to look at my options. As ecogal: The Curious Consumer, I want to look at what I am buying with a few criteria in mind. Let's start with these three.
What are the ingredients that make up what I am buying?
What makes up the container that it comes in?
In disposing of it, can it be recycled?
Let's start by looking at the ingredients
Does the label tell where it is bottled? If it doesn't then I pass on it. I only want to buy those products that tell me exactly what's in them. If you don't want to look at every single bottle, you can use your browser to search. The Environmental Working Group offers up a lot of information in the area of 'water' as does Consumer Reports and several other websites listed below.
Once I have determined the quality of water that I am buying, I look at what kind of container it comes in.
For bottled water is seems to be either glass or plastic.
"Bottled water may be hurting your health.
A new study suggests plastic bottles release small amounts of chemicals over long periods of time. The longer water is stored in plastic bottles, the higher the concentration of a potentially harmful chemical, a new study suggests."
–Source: Ban the Bottle 7 bottled water myths – busted
Other links to visit:
I personally choose glass, until there is better information about the plastics the bottle companies are using, plus I like the taste of the water better when it's from a glass bottle.
Next is disposing of the bottle: can it be recycled?
Glass and plastic both can be recycled. To find the nearest recycling center see these links:
A possible solution is to find a reusable container
No more water plastic bottles!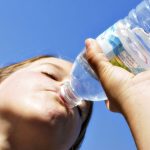 For me it works to use a great solution that is an actual glass bottle that is protected by silicone so it doesn't easily break, and that is a concern when you are going around with the bottle in your bag. But there are many other possibilities as you can see in this link: Real Simple 10 Cool Water Bottles
Keeping your bottle clean is no problem: most of them can go in the dishwasher, but washing by hand will also do fine.
Also, just look around for fountains or filling stations where you can fill up your water bottle.