Back to Basics: Multipurpose fruit cake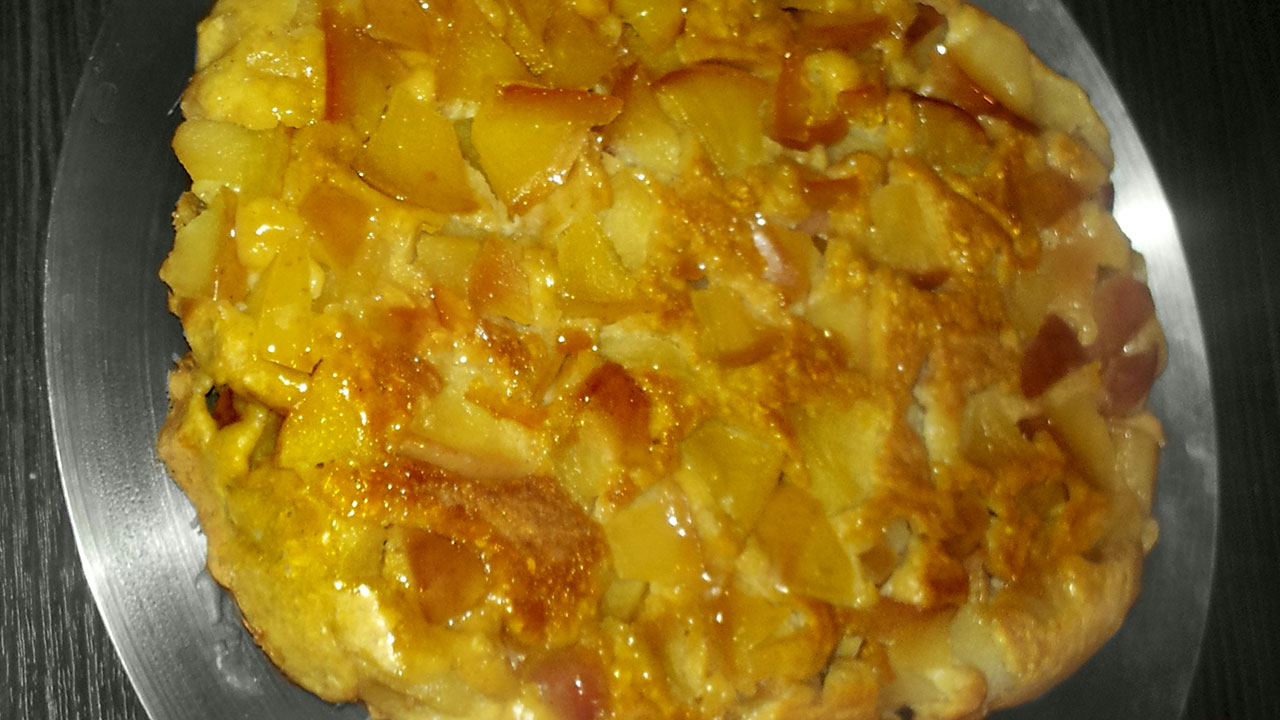 By Linda Cornelius
ecogal Author and Designer
---
Here's how to make a healthy, low sugar fruit cake for daily use
Note: this cake is really low on sugar. You can adjust to taste.
This procedure makes clever use of the same top-down procedure used for the much more known French Tarte Tatin (see here Jamie Oliver's take on this cake). The reason for this is quite practical: the fruits are wet, and keeping them down-bottom prevents the cake from being mushy and wet even if you are no chef!
Compared to the standard cakes, this version is geared for nutrition and has more eggs and fiber. The intent is to have a healthy afternoon snack that won't bust your metabolism and that you can eat often without the usual guilt feelings.
Note: you will get the most nutrition value if all ingredients are organic and whole.
Quick rundown of the main steps:
Ingredients (medium-sized cake)
3-4 eggs
3 spoons of whole, raw Panela sugar
6+ spoons of Kamut flour (or any other whole flour you prefer)
2 spoons yoghurt
2-3 spoons (unsugared) cereals, as you prefer
2 apples (or any other season fruit. You don't need to peel if organic, and thus you still get the nutrition of the peels.)
1 spoon sugar-free marmalade.
1 little bag of instant cake yeast or baking powder.
Optional:
1 spoon butter.
A tiny pinch of salt enhances the flabours, but be restrained.
Note: You can choose any seasonal fruit and add all sorts of interesting ingredients to vary and spice up your cakes: ginger, cinnamon, raisins, nuts, grated lemon and lemon juice, vanilla, black low-sugar chocolate in small pieces, just use what you have and create!
Procedure:
Turn on the oven so it preheats while you prepare the cake, at about 160-170° C – 320-338° F. We want a relatively slow cooking to allow the fruit to bake well and not be too wet.
Add all ingredients except the marmalade and apples in a processor (or use a mixer, or just mix it manually with a spoon, it's easy and you don't need to knead)
Mix well and test that the doug is sticky and not too hard. If needed add some yoghurt or an egg or a bit of milk, to adjust the density if too tough – or add some flour if too liquid. Remember: the fruit will be rather wet, so you don't want too liquid a dough.
Prepare the baking pan with some oven paper. The cake turns out best if the pan is wide and low, rather than small and tall.
Put the marmalade on the bottom and spread it out.
Cut the fruit any way you want, the easiest is just in chunks. Spread it out on top of the marmalade.
Add the dough and even it so it covers the apples
Put the cake into the warm oven and let it bake for about 40 minutes. Check it toward the end with a stick or knife: if it comes out 'dry' the cake is ready.
Take the cake out, and put the serving plate on top of the cake. Quickly topple it while holding on to the serving plate.
Gently peel the oven paper off. Do it immediately while the cake is still warm so the marmalade is soft.
The cake is now ready, let it cool down a bit though.
Tip: Such cakes are great with creme fraiche, but a great substitute is plain sugar-free yoghurt.
Tip: When cakes and bread are ready, you will get a whiff of freshly baked filling the kitchen. That's a sign you should check the cake and take it out of the oven!
Tip: When you grate a lemon you only grate the peel slightly so the underlying white doesn't get taken. A light quick pass will do. The lemon can then be squeezed for juice, or placed into a glass with a lid and put back into the fridge for later uses.